Manifolds and Vacuum Fittings for 2017 Jeep Renegade
No.
Part # / Description
/ Price
Price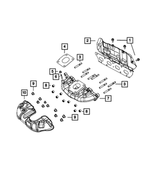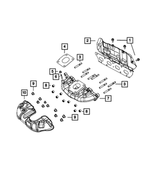 Hex Flange Locking Nut
M6x1.00. Intake Manifold Bracket To Intake Manifold. Turbocharger Bracket To Cylinder Head Cover. M6-1.00. Turbo Heat Shield. Heat Shield To Hot End. Lower Heat Shield.
Double Ended Stud, Mounting
Double Ended Stud
Heat Shield To Exhaust Manifold. M6x1.00x32.50. M6xm9x15.56. Heat Sheild To Exhaust Manifold.
Nut, Mounting
M8x1.25. Catalytic Converter To Turbocharger. Exhaust Manifold To Cylinder Head. EGR Tube To EGR Cooler. Pipe to Turbo Attachment. Turbo to Downpipe. Bracket to Transmission. Turbocharger To Cylinder Head. Turbocharger Bracket To Turbocharger. Exhaust System To Turbocharger.